Katie's Kids Home Child Care Center only takes children on a full-time basis. If you would like part-time care, you will still be expected to pay the full-time rate. Rates at Katie's Kids Home Child Care Center, effective August 22, 2022 to June 9, 2023, are as follows: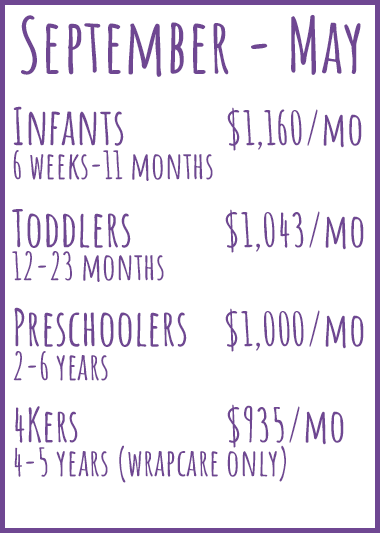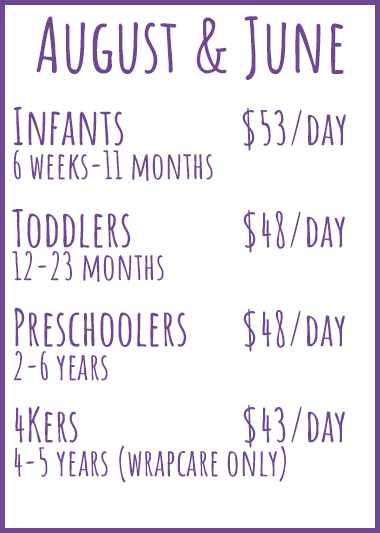 Fee for late pick up of child after closing time: $10.00 per 10 minute interval (or any fraction thereof) per child.
Fee for late payment.  Fees are to be paid in advance on the first day of the month for the following month's services.  If a payment is more than two days late, including weekend days, this fee will be charged for each day payment is not made (including the two days already past):  $10 per day.  If a portion of the fee will be paid by a third party, such as an employer or the county, that payment will be accepted on a separately arranged schedule, described on the parent/provider agreement.
You will be expected to pay for your first month of care on or before your child(ren)'s first day of attendance.
Fee for non-sufficient funds (NSF) or overdrafts.  You will be charged an additional fee of $35 if your check does not clear the bank.
The financial terms will be finalized upon signing of the parent/provider agreement.
If a parent or legal guardian is under age 18, a cosigner must sign the parent/provider agreement to act as guarantor to the parent/provider agreement, and agree to be bound by all financial terms.
Families will receive a minimum of four week notice when a rate increase is planned.
If you are interested in enrolling your child or have any questions about child care, please do not hesitate to contact Katie.
More Info About Child Care