Play, safety, and teaching new skills are my highest priorities. I follow the children's lead on what they are interested in and want to learn about. I have a wide variety of educational toys, games,  theme boxes, craft supplies, and sensory table items that I switch in and out of my classroom to keep things new and exciting.
We do Circle Time each day where we sing songs, do a Safekeeper Ritual, work on learning colors, shapes, letters, numbers and counting, read stories, work on breathing and self-regulation techniques, and do flannel board songs, stories, and games.
All staff are trained in Conscious Discipline® strategies and we strongly encourage family members to learn Conscious Discipline® as well. We offer free classes and training in Conscious Discipline® throughout the school year.
Subscribe To Katie's Kids on YouTube to learn more! >> YouTube Channel <<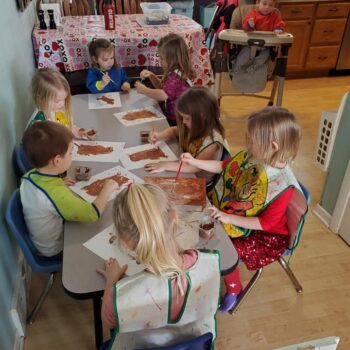 What is Conscious Discipline?
Conscious Discipline® is a social-emotional learning program. This program is a trauma-informed, brain-based, comprehensive approach that empowers you with skills that create a safe, connected, problem-solving environment for your family or classroom.
Discipline comes from the root word "disciple" which means to learn. Everything we do within our day and how we organize our classroom is a form of discipline. We believe a child must feel physically and emotionally safe and secure in the environment to learn. Many children act out in new environments or when there has been a change in their environment to make sure they are safe.
Children crave clear boundaries and expectations. It is important to maintain a safe and enriching environment for children to grow.
We use methods of guidance that develop confidence, feelings of self-worth, and relationships between children and between teachers and children. We want to enhance children's values and self-control.
Transition techniques are used to ensure that children are always active, eliminating the waiting period when switching between activities. Children will be expected to follow classroom rules that reflect age appropriateness and opportunities to learn.
Katie's Kids LLC will provide positive guidance, redirection and set clear-cut limits. We will give each child skills to develop self-control, self-esteem, and respect for the rights of others. Our center uses a combination of prevention techniques, activity planning, room layout, limited choices, logical consequences, gentle reminders, and redirection to handle most discipline situations.
More Info About Child Care